About us
Working in response to the real needs of customers
In response to the trend of the times that change from day to day, Tanaka Sangyo as a general trading company of materials for the plant manufacturing industry is making progress steadily with consideration of its operations to connect itself with all customers worldwide beyond the area limits of Japan, Osaka, or Sakai.
Taking advantage of its experience and achievements over 30 years, Tanaka Sangyo will continue working on challenging initiatives with new ingenuity and innovation and make progress with all customers for the future.
Corporate Mission
We aim to create valuable profit for all our customers and prosper together.
We always work with the best teamwork and skills for our customers.
Outline & History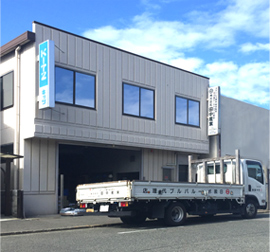 Company name: Tanaka Sangyo Co., Ltd.
President & CEO: Kiyokazu Tanaka
Senior Managing Director: Shozo Tsukayoshi
Managing Director: Masashi Yamano
Address: 5-110 Yamamoto-cho, Sakai-ku, Sakai-shi, Osaka Prefecture, Japan 590-0983
<Google MAP>
Tel.: +81-72-223-7881
Fax: +81-72-221-0322
URL: http://www.tanaka-sangyou.co.jp
May 1979
Kiyokazu Tanaka, the Founder of Tanaka Sangyo, became independent from a trading company in the city of Osaka, and started the business in an apartment in the city of Sakai, Osaka Prefecture, with a single phone and a single truck.With the consent of the company that he left, he took over five customers in the beginning and started sales activities with full of dreams and ambitions.
The first Tokyo International Women's Marathon was held.
The Doraemon TV anime series started.
The Sony Walkman went on sale.

May 1980
The Company received an order for a new equipment project in the peripheral industrial area from a customer that the Company acquired as a result of an expansion of heart-to-heart sales as the Founder's motto. After replicating best delivery practices, the Company set up an office in a room of a multi-tenant building in the city of Sakai and started holding a small volume of inventory.
The Company started hiring employees as reliable comrades.
Japan's automobile production volume became the world's number one.
The Shadow Worrier, a movie directed by Akira Kurosawa won the Cannes Film Festival Grand Prix.

September 1981
The Company entered into an agency agreement with Hisaka Works, Ltd., a Japanese ball valve manufacturer.The Company strove for the further development of sales channels.
The Company started hiring employees as reliable comrades.
Japan's first new unmanned transportation system (the Port Liner) came into operation in Kobe, followed by the New Tram in Osaka.
Kenichi Fukui, Professor Emeritus of Kyoto University, received the Nobel Prize in Chemistry.
January 1988
The Company established its own two-story building incorporating a warehouse in the Company's current location and started sales activities with eight staff members.
The Company started hiring employees as reliable comrades.
The Seikan Tunnel, the world's longest tunnel with a length of 58.85 km, was opened.
The Tohoku Shinkansen and the Joetsu Shinkansen came into service.

January 1991
The Company collaborated with its corporate customers and started taking initiatives in new business categories, including designing, production, and installation work, and continued strengthening the Company's response to business needs.
Junko Tabei became the world's first female mountaineer that climbed up to the highest peaks of the six continents.
The 300-series Shinkansen recorded a top speed of 325.7 km/h.

May 2012
When the Founder was 65 years of age, Azusa Mukai took over the business from the Founder for the development of the Company in the next generation. The Founder positioned himself as Chairman of the Board. Tanaka Sankyo's new corporate organization system started.
Azusa, a daughter born to the Founder, was only nine years of age at the time of the Company's foundation. Azusa, who was raised up along with the growth of Tanaka Sangyo, launched herself on a business career as one of the three executives, i.e., herself (President and CEO), Tukayoshi (Managing Director), and Yamano (Director and General Manager of Sales), and the Company was ready to proceed with 13 bright members like sailors working under the command of Azusa.
The construction of Tokyo Skytree with a height of 634 meters was completed.
Professor Shinya Yamanaka of Kyoto University received the Nobel Prizes in Physiology and Medicine for his research on iPS cells.


Leadership Team of Global Section
Masashi Yamano, General Manager of Sales
The most important matter at work: Doing a good job to please customers.
Hobby: Football
His image viewed by the members of the section team:
He is like a Japanese samurai with keen tactics. In the managerial position with a flexible way of thinking, he accurately grasps market trends.
A message to website visitors:
I would like to have a broad perspective, deal seriously with all problems of customers at home and abroad in any kinds of merchandise, and solve their problems.

Le Thi Hue, Global Sales Assistant
Hobbies: Traveling, manga, and karaoke
The most important matter at work: More quickly! More accurately!
Her image viewed by the members of the section team:
Every day she is doing her best at work. Her ambitions and potentials are infinite.
A message to website visitors:
Japanese products are well known over the world because of its quality.
Moreover, Japanese enterprises' customer services, including their after-sales service, in particular, are highly reputed.
As a member of the Global Section at Tanaka Sangyo, I hope to provide our best services and products for various markets to satisfy all the needs of customers.


Partners
Tanaka Sangyo's greatest strength is a network of hundreds of business partners as a result of its many years of experience. Tanaka Sangyo is expanding various types of business based on our customers' great trust in Tanaka Sangyo.
In its business expansion in the Asian region, Tanaka Sangyo is working with overseas partners in various forms, including the construction of new production bases and lines, a market expansion, and the securement of global human resources, based on its network of Japanese manufacturers, thus delivering products of reliable Japanese quality to every customer. Furthermore, Tanaka Sangyo constructs a reciprocal partnership with merits on both sides, including production support to Japanese enterprises expanding overseas and overseas affiliates expanding their business in Japan, through interactive business activities, thus contributing to the international community.
For Your Benefits
Tanaka Sangyo is able to provide high-quality Japanese products based on our accumulated experience and trust of 35 years.
Tanaka Sangyo as a Japanese trading company is able to add Japanese products with cost performance.
Gaining the trust of an increasing number of end users, Tanaka Sangyo is getting competitive price offers from each manufacturer.
Tanaka Sangyo will save customers' time and labor by taking over their product purchase operations.


Tanaka Sangyo Co., Ltd.
Tel.:+81-72-223-7881
Fax:+81-72-221-0322
5-110 Yamamoto-cho, Sakai-ku, Sakai-shi, Osaka Prefecture, Japan 590-0983